You know Colorado, right?
World-class skiing, snow-capped mountains, frigid temps.
Absolutely.
Yet, during a recent family trip from our mountain home to another part of the state, we were reminded of how much more there is to explore.
Rocky Mountain Divide
The famous Rocky Mountains run through the middle of the state, dividing the mountainous highlands from...well, essentially Kansas.
The Front Range is what the locals call the eastern foothills of the Rocky Mountains, and there is no uncertainty about where those hills end and the Great Plains begin.
The line of mountains looks like a long wave about to crash on a smooth beach. And it's a crowded beach. More than three fifths of Colorado's happy population live in the flatlands (albeit tucked up against the base of those majestic mountains), including the capital, Denver, and the hip college towns of Boulder and Fort Collins. Also in that list is the historic and sometimes overlooked Colorado Springs, the state's second largest metropolis.
So Much To Do In The Springs
The Springs, as locals abbreviate it, isn't absent from the national consciousness, strictly speaking, but it is surprising how its vast and diverse array of activities can remain a secret to most outside the state. Many know it for being the home to the stunning U.S. Air Force Academy and the U.S. Olympic Training Center, for its iconic view of Pikes Peak (where Katharine Lee Bates was inspired to pen "America the Beautiful"), and for the U.S. Air Force North American Air Defense Command or NORAD (actually inside Cheyenne Mountain, to protect it from a nuclear strike!).
And while it recently had some recognition for its move-worthy amenities and lifestyle with US News & World Report ranking it the 2nd most desirable place to live in the U.S., it is currently getting more well-deserved love as a tourist destination.
Families Take Note!
But families in particular should stand up and take notice of Colorado Springs. Per square mile, there may not be a more beautiful, diverse, affordable, family-friendly place.
Homebase for our Colorado Springs adventure was the Cheyenne Mountain Resort. Located on 200 acres, with golf, spa, a 35- acre lake with loads of water action, and plenty of hiking trails nearby, it was a grand location from which to explore.
Your family can sit around a beach bonfire, go paddle boarding at sunset, or play Marco Polo in the pool. There's also a Kid's Club to consider and special programs offered during summer and school holidays.
Natural Beauty
Of course the whole place started with natural beauty. Approaching the city from the east, you'll see Pikes Peak looming over it, just as the mountain's namesake, military explorer Zebulon Pike did in 1806. After the area was settled, it became famous for its healing climate and spring waters (of Manitou Springs). That attention in turn made visitors notice the exceptional aesthetic beauty that is still the soul of the place.
The Pikes Peak Cog Railway, Garden of the Gods, the Cheyenne Mountain Zoo, Seven Falls, North Cheyenne Cañon, are all must-sees on the Colorado Springs canvas.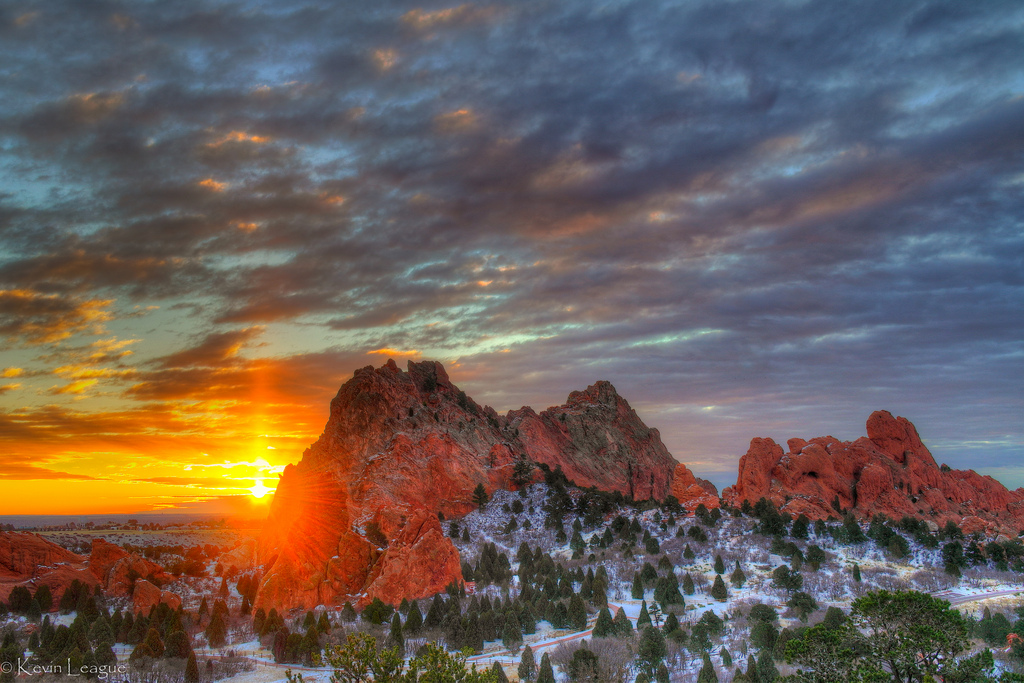 Of course natural beauty often inspires creative beauty, and Colorado Springs is a testament to that aesthetic connection. The Air Force Academy grounds and chapel are a stunning blend of modern architecture and design sprouting from the dense coniferous forest. And if all that doesn't inspire the kids, there are planes, gliders, and skydivers overhead all day long. The Broadmoor Hotel is worth a visit, even if you're not staying. The grounds and buildings are breathtaking, and the activities in and around will keep you busy for easily an afternoon or more. The founder of Colorado Springs, William Palmer, built a castle, called Glen Eyrie, in the western foothills near Garden of the Gods that is today open to visit, tour, and relax for high tea (it is a castle, after all). And perhaps most inspiring are the Anasazi Cliff Dwellings above Manitou Springs. The dwellings were actually relocated from southern Colorado over 100 years ago to save them from further destruction by artifact poachers, but there is no better testament to Necessity as the mother of art and Nature as her muse.
All of these things are within 20 minutes of each other, making a visit more about experiences and family time than travel time. Particularly convenient is the Colorado Springs airport. If you can fly there from your home city, you'd likely save money on Frontier Airlines, or justify the extra cost of avoiding the time-sucking Denver International Airport. On a recent flight to Phoenix from Colorado Springs, our family timed our trip from car door to gate in less than 15 minutes, with a stop to check luggage!
If you go
Check out Colorado Springs Convention & Visitor's Bureau for great family activities.
Family lodging
You can find a place for any budget in Colorado Springs, but check out these options that add some character, history, and entertainment into the package.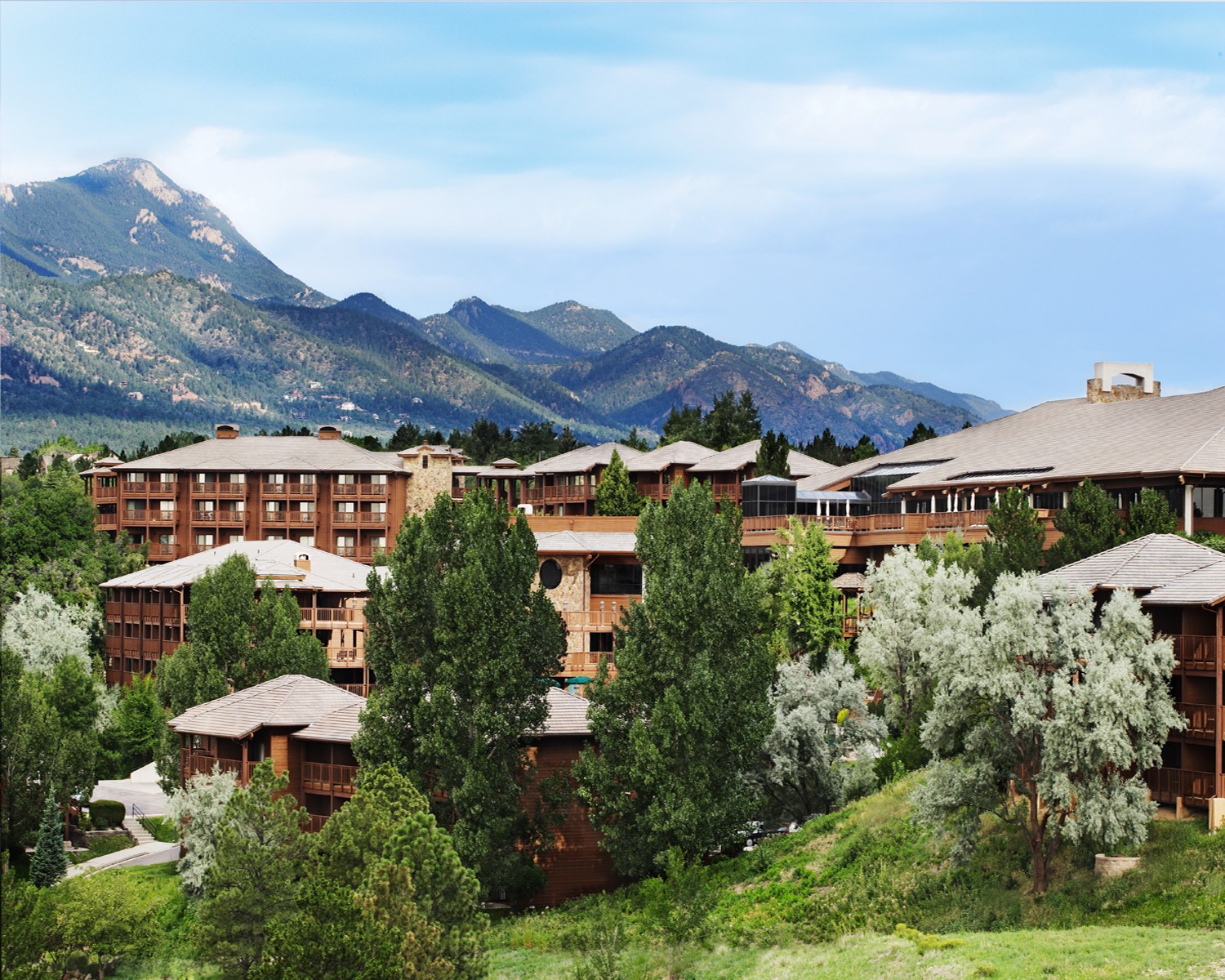 Located near the Broadmoor Hotel, the Cheyenne Mountain Zoo, and North Cheyenne Cañon Park, this family-friendly hotel feeds kids 10 and under for free and offers packages to keep them busy while you golf, swim, hike...spa! It's also surprisingly affordable.
The Grande Dame of Colorado Springs hotels boasts a massive property with all sorts of amenities, history, and breathtaking view from its high perch. It'll cost you a bit more, but this is the life of the finer things.
WARNING: This North American chain is a self-contained family zone. With a massive indoor water park, restaurants, performances, and activities, Great Wolf will tempt you into never leaving the grounds. You must not let that happen. Our preferred strategy is one to two nights at Great Wolf and at least three more in a property that embodies the character and charm of Colorado Springs.
Did you Know?
Astraphobics, take heed: Colorado Springs is one of the most active lightning strike areas in the U.S., which is why the electrical pioneer Nikola Tesla sited his laboratory there to study electricity.

There really are no bad times to visit the Springs, and if you happen to be there in late October, the Emma Crawford Coffin Races are a great excuse to visit the funky, kitschy Manitou Springs (as if it requires an excuse).

Colorado Springs boasts 243 sunny days a year (2 out of every 3 days, on average,) and that's not counting partly sunny days!